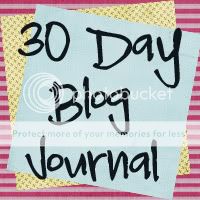 Well, it's the final 3 days of the 30 day blog journal! I hope that I can find other things to write about now that this is over! :)
Day 28 - whats in my handbag/purse
Today I'm carrying this Jessica Simpson handbag from Macys.
Inside:
My wallet (from Kohls)
Clinique make up bag with chapstick, mirror, lipstick and lipgloss
Rayban Sunglasses
Orbit gum
Chick-fil-A Mints (the best ever!!)
Pack of Kleenex
Bandaids
Pens
Work lanyard with ID and work keys
Macy's coupons
Day 29 - hopes,dreams and plans for the next 365 days
In the next year, the only thing that I am dreaming about and hoping for is to be engaged to the man I love and planning a wedding with him. Hopefully we'll get to take a vacation or 2 in there somewhere, and I hope to save some more money in order to put a dent in my student loans.
Day 30 - a dream for the future
Does winning the lottery count?? haha. j/k Past the 365 days, I hope that I am and stay happily married for the rest of my life with a kid or 2 in the mix as well :)