I'm back for Miscellany Monday!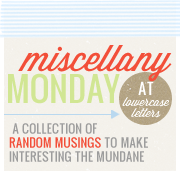 1. I'm super excited for the Bachelor tonight. I told myself I wasn't going to get sucked in this season, but I already am. Emily is my fav so far!
2. After seeing a lot of bloggers post about this new chapstick, I'm really wanting some. I've looked the last few times at the store, but can't find any :( Lemon is one of my favorite flavors so this just has to be fabulous.
3. I didn't think I would like American Idol this season without Simon, Ellen, or Kara but I actually think I like it better. Jennifer Lopez was just great and Steven Tyler (even though I'm not a big fan) really did a good job. I do think though that they let a bunch of people through who wouldn't have made it in the past seasons.
4. John convinced me to download this new alarm app on the iPhone clock called Sleep Cycle. I'm going to do a whole separate post about this because it's very interesting, but basically it can tell when you are in your deepest sleep so it doesn't wake up during that. More to come on that one.
6. A few weeks ago on Miscellany Monday I mentioned that John was going to San Diego. Well, he booked me a ticket so I get to go too! Thanks to some frequent flier miles and his company paying for the hotel, we are basically going for free! Now we need suggestions on things to do...
7. I had another pretty good Weight Watchers week. Stay tuned for Weight Watchers Wednesday for the full scoop.
8. This weekend John and I are headed to DFW for my family's annual trip to the Ft. Worth Rodeo. I'm excited to get to put on my cowboy boots again! ;)
9. I'm excited for the Houston Rodeo again this year. The entertainers never disappoint and I reeeeally wanna see Miranda Lambert and Zach Brown Band this year. The only bad thing - they are both on week days the same week. I'm out for Spring Break that week, but John isn't. So, if anyone wants to join me, speak up! :)
10. I got the Josh Abbot Band CD for Christmas and I am LOVING this song...
That's it for my miscellany's today. I always end up with way more than planned :)