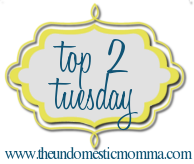 I love Taylor's topic today for Top 2 Tuesday - Top 2 Healthy Recipes and Snack Ideas!
This topic is PERFECT for me right now and I'm so excited to go through all the links and hopefully find some good recipes and snack ideas for John and I. Maybe I'll even find some other fellow bloggers who are doing weight watchers as well!
So, I posted about some of my new favorite snacks in my
first Weight Watchers Wednesday
Post. And in
last weeks Weight Watchers Wednesday
, I posted 3 of the recipes John and I had been eating that we love.
So, here's my top 2 favorite healthy snacks right now:
1. Strawberries and Splenda -
A great way to satisfy my sweet tooth! Strawberries are 0 points and Splenda is 0 points for up to 3 Tbsp.
2. Apples and Cool Whip -
another sweet tooth satisfier! I'm not sure if this combo is weird or not, but it's yummy! Apples are 0 points and the Cool Whip Free is 0 points for up to 3 Tbsp.
Now, my top 2 favorite healthy recipes right now: (these were posted last week, but they are still my Top 2)
1. Roasted Pork Tenderloin
Ingredients:
1 spray cooking spray
2 tsp dried thyme
2 tsp dried oregano
1 tsp garlic powder
1 tsp onion powder
1 tsp table salt
1 tsp freshly ground black pepper
2 tsp olive oil
2 lbs lean pork tenderloin
Instructions:
1. Preheat oven to 400. Coat a shallow roasting pan with cooking spray.
2. Combine thyme, oregano, garlic powder, onion powder, salt and pepper in a small bowl; set aside
3. Rub oil all over pork. Sprinkle thyme mixture all over pork and transfer to prepared pan.
4. Roast until an instant -read thermometer inserted in center of pork reads 160 degrees, about 30 minutes.
5. Let roast stand 10 minutes before slicing crosswise into thin slices.
Yields about 3 ounces per serving. Makes 8 servings
Total points: 3


2. Juicy Hamburgers
Ingredients:
1 spray cooking spray
1 pound of ground beef (93/7)
1 Tbsp Worcestershire sauce
2 tsp minced garlic
1/2 tsp table salt
1/4 tsp fresh ground black pepper
4 light rolls
Instructions:
1. Coat a large griddle, outdoor grill rack or stove top grill pan with cooking spray and preheat to medium-high.
2. In a large bowl, combine beef, Worcestershire sauce, garlic, salt and pepper; mix well and shape into 4 patties, about 1 inch thick each. (to retain juiciness, be careful not to overwork the meat.)
3. Place burgers on hot griddle or grill and cook 5 minutes per side for medium (or longer to desired degree of doneness.)
4. Serve burgers on rolls with your favorite toppings (could affect points values)
Yields 1 burger per serving. Makes 4 servings
Total points: 6
I've made a few changes to affect points - I don't use a bun. I just eat the meat and put 1/2 slice of 2% cheddar cheese and it's only 5 points instead. You can also add any veggies you want for 0 points.
Hopefully y'all enjoy these recipes and snacks!