I was so excited when
Amy
asked me to cohost this weeks edition of her newest linkup...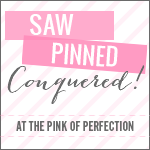 I love Pinterest, just like I'm sure all of you do, but what I really love is finding stuff on there that I can actually do! Whether it be recipes, wedding related, DIY crafts, whatever.
John and I have been really working on eating healthy and I'm back on WW so I've been all over Pinterest looking for healthy recipes.
The latest recipe we've tried is the Chicken Tamale Bake.
The original recipe can be found here.
This was REALLY good and we will be adding it to our routine. We made it before I started WW so I'm not really sure how many points it is yet, but overall it's pretty healthy! If you follow the exact directions from the original recipe it's 7 points plus and 254 calories per serving.
Ingredients:
1 cup shredded reduced fat Mexican cheese blend
1/3 cup skim milk
1 large egg, lightly beaten
1t ground cumin
1/8t ground cayenne pepper
1 can cream style corn (14.5 oz)
1 box corn muffin mix (8.5 oz)
1 can diced green chilis, drained (4 oz)
1 can enchilada sauce (10 oz)
2 cups cooked shredded chicken breast
Directions:
1. Preheat oven to 400 degrees. Lightly mist 9x13 baking dish with cooking spray
2. In a large bowl, mix together 1/4 of the cheese, milk, egg, cumin, pepper, corn, muffin mix and green chilis until combined.
3. Pour the mixture in the prepared baking dish and cook for 15-20 minutes until the layer is set. (an inserted toothpick will come out clean)
4. Using a fork, liberally poke holes all over the surface of the corn cake layer.
5. Pour the enchilada sauce over the top and spread across the surface of the corn cake layer.
6. Sprinkle the shredded chicken evenly across the top followed by the remainder 3/4 cup of shredded cheese.
7. Return the dish to the over and cook for another 15 minutes. Let cool 5 minutes before cutting.
Yields 8 servings.
Special notes from me:
1. We had to cook it probably 10 minutes longer than the original 15-20 minutes because the corn bread wasn't done. It was still mushy in the middle
2. We used a rotisserie chicken from the grocery store for our chicken. It's really to just buy those and shred. We use it for a couple of days for different recipes.
I would definitely recommend this recipe for an easy, healthy dinner option!!
What have you pinned and conquered recently?