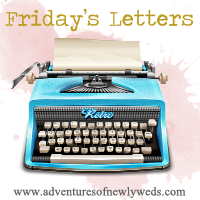 Dear Pothole:
Thank you for ruining my day yesterday. I did not need any extra stress of a blow out.

Dear Discount Tire: Thank you for providing a warranty on your tires and fixing my tire for free

Dear Boobies: Please hurry up and heal. I'm ready to see how good, small and perky you are going to look
Dear Blow Dry Bar:
Thank you for being you. John's hair washing jobs just aren't very good so an appointment to see you tonight is just what I need!
Dear Mom:
Thank you for taking such good care of me last week. I miss you!
Dear John:
Thank you for everything and all the support that you've given me the past few weeks even when it's been hard.

Dear Lucy: Momma loves you but I do not enjoy you sleeping right on top of my boobs every night now.

Dear Bed: I'm going to try to sleep in you again tonight. Sorry I've been away for a week
Dear Weekend:
Thanks for making your presence again! I needed you bad!
Happy weekend y'all!