I'm so excited to announce that Ashlee and I are hosting a Valentines Day blog swap! This is my first swap to host so I hope all of you will join in on the fun and get a little something extra in the mail this Valentines Day. Check out all the guidelines and grab our button below to spread it around the blog, twitter and facebook world!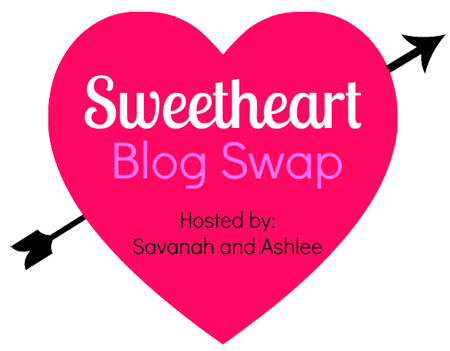 To sign up, just add your name to the linky below.

The deadline to sign up is next

Friday, January 18th

.

Ashlee and I will set everyone up with a partner over that weekend and

announce the partners on both of our blogs

Monday, January 21st.

Please limit yourself to spending no more then $1

0 which is before postage.

Some ideas to include in your partners goodie package may be; gift cards, candy, makeup, nail polish, fun socks. The sky is the limit have fun!
The deadline to send your package is Thursday, January 31st.

That gives you 10 days to shop! Please try your hardest to stick to the deadline so you and your partner can participate in the link up the next week. We know stuff happens though so if you're running late, be sure to let your partner know asap!

If at anytime you are no longer able to participate please let us know as soon as possible. No one likes to send off a package and not receive anything back!

Link up and show off your swap package on Thursday, February 14th!

We'll be hosting link ups on both of our blogs that day so that you can post about the great package you received and the rest of us can be introduced to some new bloggers!

Spread the word on Twitter, blogging or Facebook. We want to get the word out!