First I want to say Happy Valentines Day to all my blog friends!!! I hope you all have a great day celebrating however you are going to celebrate!
And I'd also like to say Happy Valentines Day to my husband!! Our first one married makes it a little bit sweeter ;)
And now it's time to share all the Valentines Day swap goodies I received in our Valentines Swap! I was paired up with Savannah from
Savannah Smiled
and she spoiled me! If you participated make sure you grab the button and link up with us!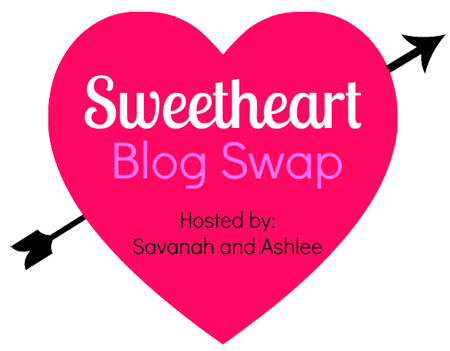 Savannah outdid herself!!! She got John and I some things to use on our first Valentines Day! Champagne glasses, balloons, a paper banner, confetti, and stuff to make cupcakes!! PERFECT!!
And of course she had to include something with a cat! HAHA! And I just mentioned the other day on the blog how much I love skittles ;)
And this was my favorite thing in the package! I print with our last name to match our kitchen! I already have it sitting out on our shelf in the kitchen :)
Thanks Savannah for the great swap package!! If you participated make sure to come link up!!