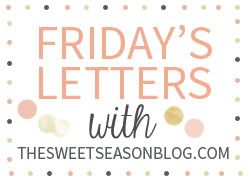 Dear Spring Break
- Whyyyyy did you have to go by so fast?? I'm not ready to go back to work yet!!
Dear Painter Men
- Thanks for making our front door look so pretty!!
Dear Rodeo
- I can't wait to put my boots on and see you again tonight! And seeing Blake Shelton there makes it a little bit better ;)
Dear Fried Oreos - I can't wait to put you in my mouth tonight!
Dear Car
- Why you already need new tires?? I don't have that $$ right now!! But you are looking extra pretty after the wash you got yesterday :)
Dear Dreams
- Please hurry and respond to our travel agent... I can't wait to know if we'll be seeing you again in December!
Dear Wedding
- I can't believe it's already been 3 months! I want to go back to that day so bad!
Dear Cotton
- I can't believe that on Monday it will already been a year since you left us. We miss you buddy.
Dear John
- I love you and thank you thank you thank you for EVERYTHING you do for us and our little family. Seeing that smile on your face is what makes my world go round.